Regular price
$124.50 AUD
Regular price
$131.00 AUD
Sale price
$124.50 AUD
Unit price
per
Sale
Sold out
Dry skin? We have got you covered!
Save 5% when you buy this bundle and your body will love you.
No matter how much time or what you feel like, we have you covered!
All these can be used by themselves or together.
Vitamin C Moisture Body Scrub - exfoliated the dry skin away and moisturise your whole body at the same time. Leaves your skin looking and feeling amazing!
Skin Food Body Custard - Thick and extremely nourishing. Takes less than a minute to soak in with real lasting results. Plus smells amazing!
Gumby Gumby Healing Salve - So many applications. Beside the traditional uses, this is great for your serious problem areas like elbows, feet, hands and anywhere you need to heal and moisturise your skin! Definitely ok for you face also.
Share
Active Ingredients

GUMBY GUMBY Is an Australian Native Tree that has been used by the Australian Indigenous People for thousands of years. It extract has many potent healing properties and is used for most topical skin conditions like psoriasis, eczema, burns, minor cuts, rashes, bug bites and irritated skin.

FRANKINCENSE OIL is a natural astringent and a rejuvenating healing oil. It can help heal skin imperfections and conditions like acne and wounds. Also, extremely useful for reducing the appearance of stretch marks and scars.

MANUKA OIL is used and well known for its incredible healing powers. As well all the medical uses for manuka, in skin care it is a an extremely healing and anti-inflammatory and anti fungal addition in a healing salve.

ORGANIC COCONUT OIL: alone a skin super food. It moisturises, helps clean, it has anti inflammatory, anti bacterial and antiviral properties.

ORGANIC SUGAR: a natural humectant meaning it draws moisture from its surroundings into the skin and helps to retain any moisture the skin absorbs. It contains glycolic acid which helps strip away dead skin cells. It is mild and leaves skin feeling soft, smooth and plump.

ROSEHIP OIL: rich in vitamins A, C, E and essential fatty acids. These fatty acids are anti-inflammatory and can improve signs of aging, pigmentation and moisturize the skin.

SWEET ORANGE OIL: smells amazing and has so many amazing properties! Uplifting, packed full of vitamin C, smooths skin tone, anti- bacterial, cleansing, astringent (reduces pores), promotes cell growth. It maintains skin health, appearance and clarity radiance and clarity. By far our favourite essential oil in any cleanser! Just amazing.

ALOE VERA JUICE is an excellent source of vitamin C, it promotes skin regeneration and can help with many skin conditions. Stimulates collagen and elastin production.

ALMOND OIL Rich in Vitamin A, Vitamin E, Zinc and Omega Fatty Acids. The retinol in vitamin A helps with the product of new skin cells and smooth fine lines. Vitamin E help reverse sun damage. Zinc helps heals scars and damaged skin tissue. Fatty acids help prevent premature aging and safeguards against sun damage.  This is a timeless, well used ingredient in skincare, with great reasons.

ARGAN OIL is packed with omega fatty acids, vitamin E, and linoleic acids, all of which work to lightly moisturize your skin, soften dry patches. It can even reduce acne by helping to regulate sebum production in your skin. This all add to a smoother calmer complexion.

SHEANUT BUTTER Extremely skin softening, it is the main reason it is used in skin care. Is also high in fatty acids and vitamins, making it incredibly anti-inflammatory and healing.

LILLY PILLY The Lilly Pilly is naturally rich in vitamin C and AHA fruit acids. It helps brightens skin tone, promotes skin rejuvenation by improving collagen production. Reduces fine lines and wrinkles and protects against harmful UVB radiation – All these amazing natural benefits for your skin, surely this is one of natures anti-aging super food ingredients!
Application

Gumby Gumby Healing Salve: Apply to where ever you need to on your skin. To use as a moisturiser, use by itself or under your daily moisturiser.

Vitamin C Moisture Body Scrub: To use: stand in the shower. Optional to wet your skin before you start. Gently rub the scrub into your whole body, this is gentle enough to use under your arms and gently on your face. Rinse off. Be prepared to feel wonderful.

Skin Food Body Custard: Apply over your body and feet every day or whenever you feel like it. First apply, leave it sit on your skin for just a minute, then light rub in. This so rich it just takes a minute to absorb. It will leave your skin looking just amazing.

Ingredients

Gumby Gumby Healing Salve: Pittosporum Angustifolium (gumby gumby) Extract. *Coconut Oil, Candelillia Wax, Calendula Extract, Jojoba Oil, Frankincense & Manuka Essential Oil.
*indicates organic.

Vitamin C Moisture Body Scrub:*Organic Sugar, *Cocos Nucifera (Coconut Oil), Tapioca, Rosehips, *Pelargonium Captatum (Rose Geranium) Essential Oil, *Citrus Sinensis (Sweet Orange) Essential Oil, Benzyl Alcohol, Salicylic Acid, Glycerin, Sorbic Acid.

*indicates organic

Skin Food Body Custard: Aloe Barbadensis Leaf Juice, Purified Aqua, *Prunus Amygdalus Ducis (Almond Oil), *Butyrospermum Parkii (shea Nut) Butter, *Camellia Oleifera Seed Oil, Argania Spinosa Kernel Oil (Argan Oil), Ceteareth 20, Glycerin, Propylene Glycol, Tocopherol (Vitamin E), Rosmarinus Officinalis, Syzygium Smithii (Lilly Pilly), *Aniba Rosaedora Wood (Rosewood) Essential Oil, *Citrus Bergamia Leaf Essential Oil,* Pelargonium Capitatum Leaf ( Rose Geranium) Essential Oil, *Citrus Paradisi White Grapefruit Essential Oil, Cetearyl Alcohol, Benzyl Alcohol, Salicylic Acid, Sorbic Acid.

*indicates organic



View full details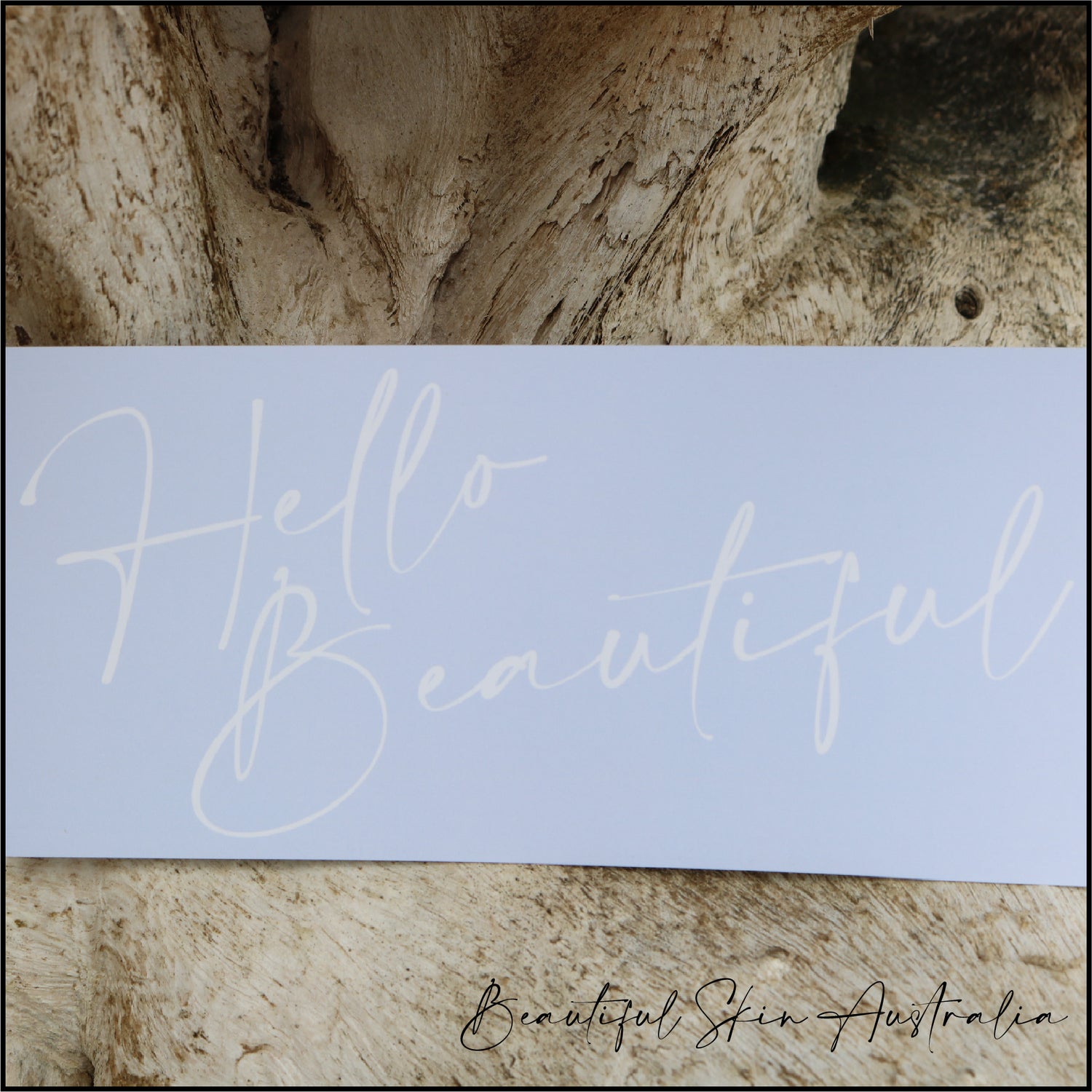 Beautiful Gift Card
A thoughtful gift of Beauty
Free Delivery

Free Delivery is automatically selected at the check out for order over $120!

We believe in our Beautiful Skin Care products and will give you a 30-day money back guarantee if you are not satisfied with your skincare purchase.